Rob Endsley
Rob Endsley is a retired river guide and full time Alaska charter captain with well over two thousand days logged on the water. In 2007 he was recognized by forty leading industry professionals as one of the top 25 salmon and steelhead guides on the West Coast and he has received extensive coverage in both the regional and national media. He brings a lifetime of fishing, hunting, and outdoor experience to the Outdoor Line radio show.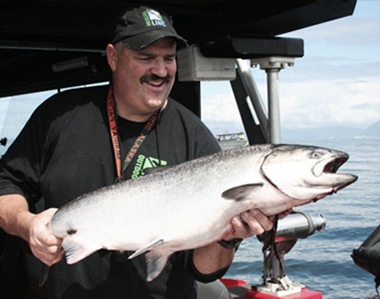 Tom "Nelly" Nelson
"Well, we kept him off of the water until he was five weeks old" says Tom's mother Marie. "Dad was a dentist in Marysville and he set his practice up so he only had to be in the office two days a week in the summer. The rest of the time our family was up on the Skagit River, salmon fishing!" Indeed, Tom grew up thinking that everybody in the world fished hogline style for huge king salmon!
This week on the Outdoor Line on 710 ESPN Seattle
SATURDAY July 7th 6-9am!!!
July in full giddyap! Try to keep up!
We're letting you in on the San Juans, Straits, Neah to Westport… SOLID Chinook action
Robbo's checks in from his self-imposed exile in Craig, Alaska.
WDFW Officer Andy Stout on avoiding Crabbing "pitfalls…"
Lisa Killick from WestCoast Resorts with a few stories and a fresh read on the salmon run!
Shane Magnuson is workin' on Wells Dam and Chelan Falls it's a Bonanza!
Eric Linde Summer Columbia River action: Shad, steelhead & sturgeon!
The TECH Line: Marine Area 9 & 10 Times & tides & tackle!
Jet Chevrolet's Picks of the week
Roy Robinson Chevy/RV's "Really? Where? and much, much more!
New articles from our Blog
The Outdoor Line Community
Okay....so, here is the painful fact. The local fishermen (and women) here knew that considering what we witnessed this past year out on the water in our area, that it was only a matter of time and we'd ...
Hey Bow, We've decided to put our Forum to rest. You can always connect with us on Theoutdoorline's Facebook page or live on Saturday mornings on the Renaissance Marine Reverse Chine Hotline at 866.979.3776 ...
A look at the updated 3500 and 5500 bags from Exo Mountain Gear. For more information or to order please visit www.exomountaingear.com.
John Martinis from John's Sporting Goods demonstrates how to properly rig pots to fish for shrimp and prawns in Puget Sound.
Rob Endsley from the Outdoor Line on 710 ESPN Seattle shows how to rig up with a float and jig for winter steelhead fishing. Floatfishing is hands-down the easiest and most effective technique to lear… ...
Rob Endsley takes some time after the Outdoor Line radio show to discuss what Kwikfish, flies, and jigs to use for catching chum salmon on the rivers of Western Washington.
Tom Nelson from the Outdoor Line radio show on 710 ESPN Seattle demonstrates how to properly cut a herring fillet strip to be used with an Ace Hi Fly or hoochie when trolling for salmon. Go to www.the… ...