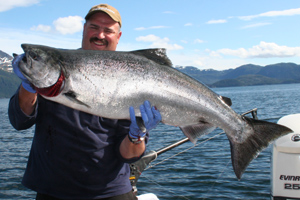 "Well, we kept him off of the water until he was five weeks old" says Tom's mother Marie. "Dad was a dentist in Marysville and he set his practice up so he only had to be in the office two days a week in the summer. The rest of the time our family was up on the Skagit River, salmon fishing!" Indeed, Tom grew up thinking that everybody in the world fished hogline style for huge king salmon!
Tom's education as a fisherman continued at the University of Washington's School of Fisheries, earning a Degree in Fisheries Biology. Nelly was subsequently employed by the school's Fisheries Research Institute (F.R.I.) as a Research Assistant for several Alaskan salmon research projects allowing Tom to explore the Nushagak, Chignik, and Lake Illiamna regions.
"Nelly's" fishing career has included guiding and writing for Salmon Trout Steelheader, Salmon and Steelhead Journal, Fishing & Hunting News, Washington Game & Fish, The REEL News as well as several websites.
A fixture at fishing clubs and the seminar circuit, "Nelly's" fishing PowerPoint presentations are very popular and well attended. Tom spent over five years at the upstart outdoor radio show "Northwest Wild Country" before leaving in March of 2009 for a chance to co-host his own outdoor show, "The Outdoor Line" at KIRO 710 ESPN Seattle with Robbo Endsley and Robbie Tobeck. The original Outdoor Line with Bill Davis entertained and informed anglers and hunters on KIRO Radio for three decades, ending in the late 1990's with Mr. Davis untimely passing. Tom Nelson was once a guest on Bill Davis show and it seems now that the torch has been passed.
Tom has also been featured in four episodes of Outdoor Channel's "Western Sportfishing" and several episodes of Fox Sports Northwest's "Hawg Quest" with Glenn Hall. Nelly's fishing and media experience has caught the attention of several outdoor industry corporations and he currently serves on the Pro-Staff of: Evinrude, Stabi-Craft Marine, Fetha Styx rods, Cannon Downriggers, Minn Kota motors and Lowrance electronics.