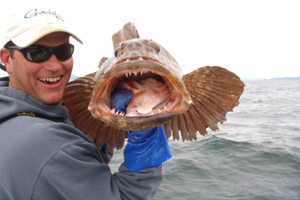 Rob Endsley is a retired river guide and full time Alaska charter captain with well over two thousand days logged on the water. In 2007 he was recognized by forty leading industry professionals as one of the top 25 salmon and steelhead guides on the West Coast and he has received extensive coverage in both the regional and national media. He brings a lifetime of fishing, hunting, and outdoor experience to the Outdoor Line radio show.
Rob grew up in Port Orchard, Washington and graduated from South Kitsap High School in 1989. He later played basketball at Yakima Valley College for two years, receiving an A.A. degree in 1991, before moving on to Western Washington University. He received a varsity letter in his first year on the WWU men's crew team in 92/93, participating in Seattle's Windermere Cup and the West Coast Regional Championships in Sacramento, California. He has an extensive background in water quality and received a Bachelor of Science in Environmental Science from Western Washington University in 1994.
Rob is a founding member of the Wild Steelhead Coalition, a non profit group that backs the conservation, protection, and continued study of wild steelhead. Over the course of his career he has contributed to numerous programs and publications, including "Cabela's Field Guide", "ESPN Outdoors", MTV's "Real World", Gander Mountain's "We Live Outdoor's", and "Northwest Wild Country". He is an accomplished writer and has appeared in nearly every major fishing publication in the country. When Rob isn't fishing you can find him chasing whitetail, mule deer, and waterfowl throughout the Pacific Northwest.